He's really just a guy in a band
( Lorne Behrman) Greg Hoy is many things. He's a singer-songwriter, multi-instrumentalist, a recording producer, a recording engineer, something of a marketing guru, a jingle and sound composer and producer, a 'people engineer' in the tech world, an art director, and a label owner. But when you boil it all down — he's really just a guy in a band. 
"Music is in everything I do. Helping companies hiring people is just like putting a band together. I've been fortunate that both sides of my brain work in tandem," the California-based artist says with a good-natured laugh. 
With his 2020 tour cancelled due to... well, you know what, Greg managed to coax East Bay, California's Tiny Telephone studio owner John Vanderslice into letting he and his band social distance to make 'Cacophony' - an 11 song cycle now out on gold vinyl - written and recorded in just two weeks. The lyrical output was heavy: birth, death, pandemics, and fires. But that fast and furious creative drive is what propels him to create. 
When you do more, you do more. So, maybe, it's the collective inertia of all his projects that propels Greg's prolific output? Somehow, between wearing so many hats — including tirelessly touring the nation in a vintage Airstream on the Limited Mileage tour throughout 2019 — he made time to write and a record a refreshingly eclectic, 22-song double-vinyl self-tiled concept album released as the self-titled Greg Hoy & The Boys. 
His last 2019 release, Enjoy the View, was recorded mostly live by audio legend Steve Albini (Nirvana, Pixies, PJ Harvey) in Chicago & mixed in Oregon by the equally amazing Sylvia Massy (Tool, Johnny Cash, Tom Petty, Red Hot Chili Peppers). Clocking in at just under 20 minutes, the band pushed the limits as a meaty 3 piece. The result is an immediately hooky slab of caffeinated, propulsive, plug-in-and-play rock n roll. 
To date, the restless creative has issued over 30 albums under various monikers, including The Royal Panics, Greg Hoy ("no boys" for intimate releases), Greg Hoy & The Boys, and Twice As Bright. Mostly these days, he fires up Greg Hoy & The Boys, a loose collective of friends and trusted musicians that includes boys and girls. 
Greg's vibrantly diverse output harkens back to the bedroom 4-track visionary aesthetic of 1990s indie-rock, as epitomized by Guided By Voices and its fearless leader Bob Pollard. When you distill it all down, Greg plays retro rock n' roll meticulously crafted from the timeless essentials of infectious melodies paired with undeniable grooves. Yet, within this focused path, Greg issues diverse albums aligned in spirit with such singular artists as Jack White, Dave Grohl, Neil Young, Queens Of The Stone Age, Cake, The Jam, The Who, The Beatles... "All the 'the something' bands," Greg playfully adds. 
Throughout his wildly fishtailing career, Greg has worked with Glenn Branca, J. Robbins, Steve Albini, and drummer Steve Sutherland, late of Grant Hart's Nova Mob, among others. Greg's songs have been featured on network television shows such as One Tree Hill and MTV's Made. Select live highlights in Greg's career include performances at Noise Pop, SXSW, CMJ, and on the main stage at Latitude Festival in the UK. 
When off stage or not recording as an artist, Greg runs the record label, 30 Peak, and does production / soundtrack work. In this latter context, his music and sound design has been featured in Pinterest brand videos, American Express commercials, and as game effects for the software platform Adobe. Outside of the world of sonics, Greg works as a "people engineer" in tech, and he's known for having hired & built the first creative teams for Facebook, Pinterest, and Lyft. 
Greg's story in music begins at the age of 5 with the big bang of hearing Led Zeppelin's 'Whole Lotta Love' on headphones with his big brother. "I was immediately drawn to the richness of the sound, and the idea that you could manipulate emotions with sound—like a certain fuzzed out guitar and drum beat could make you feel a certain way," Greg explains. 
Later on, while attending Westminster College in Western Pennsylvania, Greg became a whiz with a four-track cassette recorder, recording his own songs as a multi-instrumentalist, and honing his lo-fi production chops tracking local bands. During this time, Greg also furthered his creative reach through working other bands as a guitarist, keyboardist, and a drummer. His debut became a buzzed-about tape, and 30 albums and two decades later he's still a DIY-spirited artist freely exploring his artistic whims. 
Greg's double album might be his most ambitious and personally poignant. He formed his music tastes through listening sessions with his mother who had a subscription to the Columbia House monthly CD series. Together, the two soaked up the sounds of Huey Lewis and the News, INXS, Chicago, and Led Zeppelin. Those were epiphanic moments for Greg as a budding music fan, and they're treasured times he spent with his mother. 
A few years ago, his mother was terminally ill and Greg was there by her bedside. He recalls: "As she was passing, I would get the CDs we would listen to together, and then go to the studio and play along on drums to our favorite songs. I realized the best thing I can do emotionally is to make a record to process it all." 
Those drum tracks became the foundation for the songs on Greg's album. The songs also inspired emotive moods, and first-time instrument choices — like the use of saxophone on 'Ready Rock Steady.' The album can be digested almost like four grouped-together EPs. 
Greg Hoy & The Boys explores a wide array of thematic threads. At times, the songs are the wry musings of a middle-aged guy stuck in the millennial-addled tech world. Some tunes point out the dichotomy of being at the forefront of technology while still loving the lo-fi world of real drums and tape recorders. "Others are about birth, death, drugs, and rock n' roll," adds Greg. Interspersed within these loose concepts, is the arc of Greg's mother's passing. 
Select album standouts include 'Brilliant Jerk,' '(Keep Feeling) Caffeination,' 'Participation Award,' and "Ready Rock Steady." The dance-y indie rock of "Brilliant Jerk" froths over with acerbic lyrical wit and twitch-y art-funk that recalls LCD Soundsystem, Gang Of Four, and Fugazi. Lyrically, this is playfully barbed social commentary on the onslaught of brainy bastards in the tech world. The tune's accompanying video is culled from stock footage as sort of a meta statement on how, when peeled back, what passes for "brilliance" in this world can be flimsy ideas puffed up by big egos. 
 The playfully titled '(Keep Feeling) Caffeination' — the title is a nod to the Human League's synth-pop gem '(Keep Feeling) Fascination'—is a sizzling rockabilly boogie number rife with savory puns. The song, and its accompanying video, pulls no punches in addressing a seldomly-addressed toxic social epidemic. 
"People talk about drugs all the time, but the most pervasive drug is caffeine—we're all high all the time, it's just a matter of your morality. I was a high on a triple expresso when I wrote this song," Greg confesses. 
The jaunty and new-wave tinged "Participation Award" is aimed at millennials and their need to be consistently coddled. The anthemic "Ready Rock Steady" is a revved-up garage-rocker with soaring hooks for a chorus, and a sax solo. "That song touches upon my wife getting ready to get married, and my mom, who lived a full life, passing on. It's about something being over and something just beginning—each line refers to both of these women," Greg says. 
Greg Hoy & The Boys took 18 months to complete, from writing until mastering. Basics were tracked on 2-inch tape in a three-day fevered recording span at Tiny Telephone with John Vanderslice in San Francisco. Greg finished the recordings at home. The album is available as a gatefold vinyl record. "It's like a ZZ Top album—you can do weed off it—you can't roll a joint off an MP3," Greg says, laughing. 
As you read this, Greg is somewhere on tour in a refurbished 1973 Airstream. Looking back at the long winding road of his varied career, Greg says: "The most meaningful aspect of this is me getting to the point where I can follow my muse, and structure my life on my terms. As Devo says, it's all about freedom of choice." 
- Lorne Behrman is an NYC based writer whose words have appeared in The Village Voice, The Boston Phoenix, SPIN, Guitar World, Alternative Press, and CMJ New Music Monthly.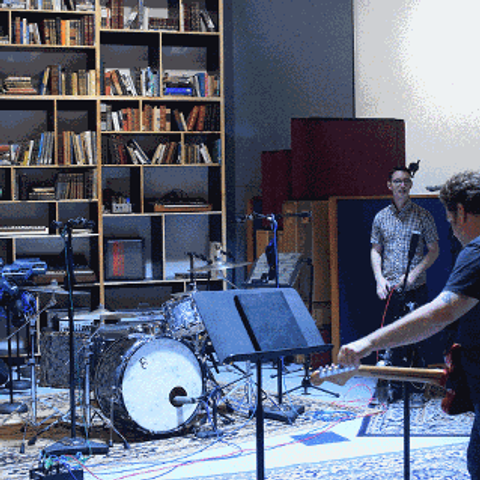 Recording at Tiny Telephone, Oakland with engineer Jacob Winik